In the world of competitive auto racing, detail and precision are the hallmarks of a winning design. From the custom engine, to specialized tires and even down to the automotive transmission seals; no level of detail is overlooked. Most of us may not have the thrill of driving a race car as seen in those cool "Fast and Furious" movies, but we can still experience that same precision engineering in high-end sport cars. Today on The Critical PARTner, we hit the road to share a success story of Meldin® transmission seals for high-end sport cars.
Challenge:
Our partner supplies transmissions to major high-end sport car manufacturers, and they are well-respected in their industry for precision building. In one recent design, their requirements called for a transmission seal that was capable of withstanding engine speeds of 11,000 RPM, temperatures reaching 302-338° F (150-170°C), and pressure tolerances of 435 psi (30 bar). As a comparison, a conventional vehicle typically requires engine speeds of 6,000 RPM (maximum), temperatures reaching +248°F (120°C), and pressure needs of 15-20 bar. The difference between conventional and high-speed sport vehicles is significant to allow for better handling.
Beyond these parameters, our client also needed to ensure a secure fit to minimize oil leakage and increase fuel efficiency. Durability and lifetime service were also key considerations.
Solution:
As with most auto manufacturing, our partner's design cycle was several years ahead of the product release date. This timeline allowed our team to codevelop and custom fabricate the ideal sealing solution to ensure a good fit between the seal and the mating hardware. We started with a complete analysis of the transmission, and soon discovered that by making an alteration to the design, we could improve the compatibility of the fit, while also improving performance and control. We worked with our partner closely through a small series of design iterations.
Ultimately, we recommended Meldin® seals for this transmission application. The Meldin® product is a family of materials that is based on a PAI (or polyamide) compound, and easily tolerates elevated temperatures that can cause other thermoplastics to lose their mechanical properties. Meldin® materials can tolerate temperatures ranging from cryogenic through +600°F (315° C) for continuous operation, or intermittent operation reaching up to +900° F (482°C).
The thermoplastic compound is incredibly rigid and remains dimensionally stable even when in contact with corrosive liquids. Though most-often used in automotive transmissions, the material is growing in popularity as an option for vehicle braking applications. It's also found in other industries where good mechanical properties and thermal resistance are required; including oil and gas, aerospace and electronics.
Result:
Our Meldin® sealing solution has surpassed all quality tests – a process that has lasted well over a year. By using a custom design, our partner's product requirements were exceeded for cycling RPM, pressure and temperature as well as lowered friction levels for longer wear. The Meldin® material brings a new level of performance to this seal design, giving our partner's sport car transmission smooth and accurate gear control for a lifetime.
Want to learn more about the Meldin® mechanical advantage for transmission seals? Explore how our seals go from sports cars to racing cars in an additional success story – or drive on over to our technical team for answers to your questions!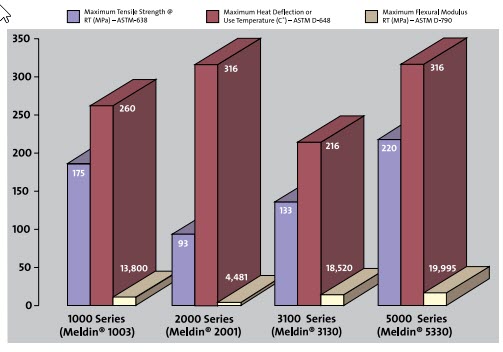 The Meldin® Series has the right properties to excel in demanding operating environments.