Discover how composite materials are versatile solutions that can be custom designed for critical dynamic conditions, providing high temperature stability & mechanical strength for your aviation applications.
Download our free white paper: "The Strength of Composite Materials: HyComp Integration with Saint-Gobain Seals Reinforces High Temperature & Mechanical Capabilities in Polyimide Solutions."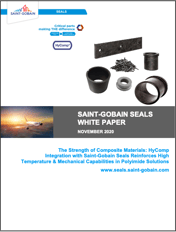 With trends moving toward improving the efficiency and performance of industrial and mechanical systems, the need for high performance material solutions has become even more stringent. In today's aviation industry, for example, various types of metals and composite materials are used to manufacture aircraft, with an increasing demand for composite parts.
Lighter weight solutions that translate into engine efficiency and operational cost reduction and emissions are leading factors in how aviation manufacturers select materials that are used in large structural components to smaller mechanical components.
A precise fit for engineers and manufacturers, get our latest white paper that goes into the properties of composites as well as polyimides and provides important insights:
Be introduced to FibreComp® and H310TM composites and their excellent structural integrity to sustain high loads and wear at elevated temperatures
Uncover why

contact pressure and sliding velocity are critical parameters that determine the suitability of materials for part design in applications that involve relative motion under load

Discover where composites are being used in critical aviation applications
To access this valuable resource for the aviation industry, fill out the form to the right!
For other aviation technical information, subscribe to our blog, The Critical PARTner, read these "special" aviation topics or contact our aviation expert!